I get asked by players all the time for recommendations for PLO tools and resources that will help them improve their game. With so many available, it can be hard to sift through what is good and bad. This post will give you a list of the best PLO tools currently available on the market today in 2023 that will help you improve your PLO poker game.
All of these PLO tools are tools that I have used or currently use to improve my game. Everyone's budget and what they can invest in improving is slightly different. Keeping that in mind, I have included PLO tools that are free as well as ones that you must pay for.
Disclaimer: PLOwing Pots believes in transparency. Some of the links on this page are affiliate links, meaning that at no additional cost to you, I may earn a small commission when you click on one. This commission helps me continue to provide high-quality content to my readers. You can read my full disclaimer here.
Table of Contents
---
GTO PLO Poker Strategy
The quickest way to make you a more profitable player is by studying poker strategies that are proven to win. The two most discussed poker strategies today are GTO poker strategies and exploitative poker strategies.
While each has its place in a winning strategy, your baseline poker strategy and foundation of understanding should start with a firm grasp of GTO poker strategies. All questions you ask yourself should start here – this is your baseline strategy from which you shift.
There is no shortage of strategy material for poker available with a quick Google search. This can often leave players stumbling onto lousy material. I cannot count the times I have gone to well-known poker sites to see something on PLO that is entirely wrong. An example is a very prominent site that will remain nameless that states you can use any combination of hole cards in combination with the board to make your hand.
With that in mind, I will help steer you in a good direction by providing some sites with solid information on GTO poker strategy. This is not an exhaustive list, but it should help get you started.
Best Free GTO PLO Poker Strategy
PLO Mastermind Blog
PLO Mastermind's Blog is a great free resource with articles covering strategy, tactics, and the mental game. The great thing about this blog is that it is dedicated entirely to PLO. Each piece is written by professional coaches who make their living playing PLO. Additionally, these pros coach, make videos and are well-versed in presenting information in an easy-to-understand format.
PLO Mastermind is a well-established site; all articles are dedicated 100% to PLO poker strategy, tactics, and related topics. You won't have to sift through mounds of unrelated content to find something PLO-related. Topics include the following and more:
PLO Pre-Flop Strategy
PLO Post-Flop Strategy
Rake
PLO Tournament Strategy
4-Card and 5-Card PLO Poker Strategy
Adjusting to Limpers
Poker Site and Poker App Reviews
Bankroll Management
Tilt Control
Focus Improvement
Much More
JNandezPoker YouTube Channel
Another excellent free resource is Fernando 'JNandez' Habbeger's YouTube channel. JNandez is the head coach at PLO Mastermind and a renowned author. He has played professional PLO for over ten years and has spent thousands of hours studying PLO poker strategy.
He has videos on strategy, play-and-explains, session reviews, and general PLO discussions ranging from a few minutes to over two hours. Despite running an extremely successful training site, he continues to give away tons of value on his YouTube channel completely free.
Many players have significantly improved their game by using some of the free content on his channel. I can personally thank his free content for helping turn my game around when I was a new PLO player migrating from No-Limit Texas Hold'em.
Best Paid GTO PLO Poker Strategy
PLO Mastermind
If you want to improve your game quickly and gain a significant edge, a good training site is one of the best investments you can make. PLO Mastermind is the only training site dedicated 100% to PLO. The site has a variety of ways to improve your game, with something for players of all skill levels. Resources include the below features that you can subscribe to by themselves or in various packages.
4-Card PLO Mastermind Video Content
4-Card PLO Trainer
PLO Range Explorer
5-Card PLO Mastermind Video Content + 5-Card PLO Trainer

PLO Mastermind 4-Card Video Subscription
PLO Mastermind's 4-Card PLO subscription is one of the most extensive collections of training material that I have seen. With 1000+ videos, 350+ quizzes, and downloadable pre-flop charts, post-flop shortcuts, and quick reference printouts, you will quickly add value to your game from the first day. Topics include –
Getting Started in PLO
General Strategy
6 Max Strategy
Heads Up Strategy
Tournament Strategy
Pre-Flop Strategy
Single Raised Pots
3-Bet Pots
4-Bet Pots
Deepstack Strategy
Shortstack Strategy
GTO Theory
Play & Explains
Session Reviews
Mental Game
Software Tutorials
Each topic has several hours dedicated to it. Professional PLO coaches take you through the theory behind GTO concepts to build a base, then teach you how to adjust based on population and player tendencies. I believe this is one of the greatest strengths of PLO Mastermind.
After watching the videos, you can work through the concepts in their 4-Card PLO Trainer discussed below. This is a great way to solidify concepts and an excellent part of a warm-up routine that can significantly improve your play.
It is worth noting that the above is only 4-Card PLO Strategy. If you want to dive into 5-Card PLO Strategy, you will want to look at the 5-Card PLO Package I cover below.
PLO Poker Trainers
While knowing the theory behind GTO PLO is important, practicing and internalizing it truly separates amateurs from pros. GTO PLO poker trainers are one of the best PLO tools and are invaluable in this quest.
These PLO tools provide hands-on exploration, training, and feedback, honing your skills and allowing you to make optimal decisions reflexively. There are many PLO poker trainers available on the market; however, a good trainer should have the following minimum features:
Study hands outside of the trainer.
Review the Expected Value (EV) for each hand.
Show differences in EV between different actions.
Filter hands using syntax or selectable categories.
Train hands.
Show mistakes both in EV and overall hands missed.
Offers both 4-Card PLO and 5-Card PLO training options.
Using a trainer for a few minutes daily as part of your study session or warm-up routine can make a huge difference in your game over time.
Best Free PLO Poker Trainers
PLO Mastermind Skills
PLO Mastermind is no stranger to our list. If you are looking for a free PLO trainer with a nice clean interface, look no further. PLO Mastermind Skills gives you the ability to train all raise-first-in (RFI) ranges and In-Position versus Out-of-Position response ranges completely free. All you have to do is open an account.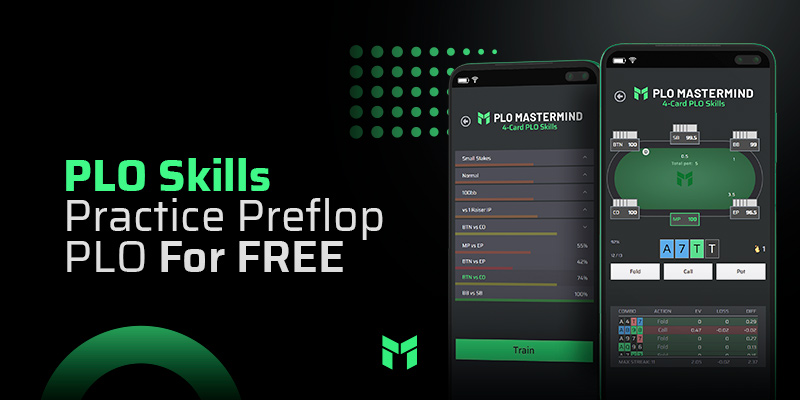 Setting up a session is quick and easy. You can select –
Stakes: Small or Mid-Stakes
Difficulty: Normal of Hard
Stack Size: 100bb
Situation: RFI or vs RFI IP
Positions for Situation
Additionally, you can track your results in the setup interface to see how you are progressing.
The training interface is easy to use with hot keys that allow you quickly drill your ranges. The hot streak display also adds a lot of fun to your training sessions. Other features include –
Correct or incorrect action
EV of hand
EV loss of hand
EV difference between next closest action
Total EV loss
Max streak
Accuracy Percentage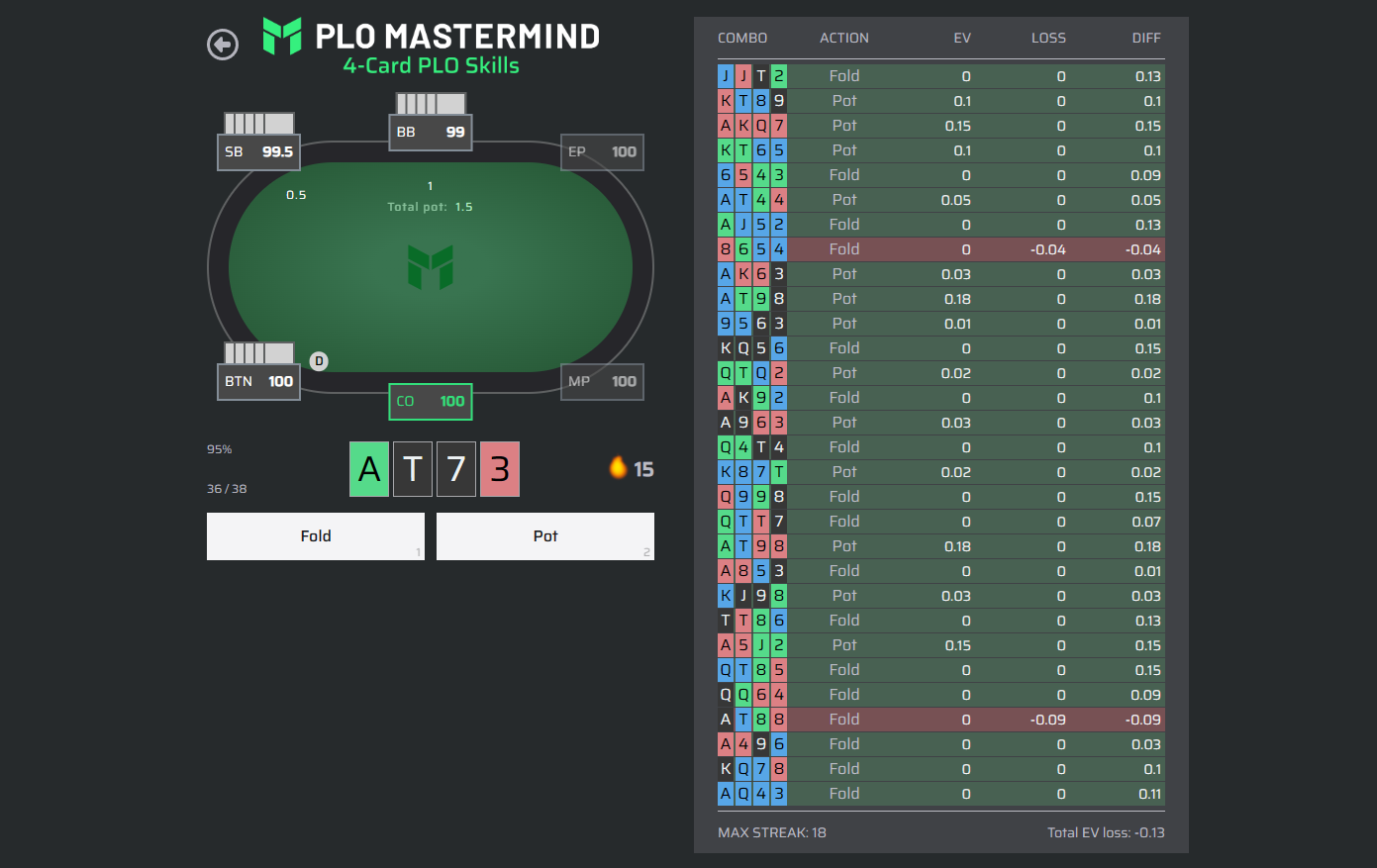 What's the longest hot streak you can get? Get started today with PLO Skills training for free by just setting up an account. It's that easy.
PLO Genius
PLO Genius is another free PLO trainer that offers a free entry-level option for players to improve their game. All you have to do is open an account, and you can immediately start studying and training with their free PLO trainer option.
If you decide to expand your training capabilities with the paid option discussed below, make sure to receive 20% off with my PLO Genius Coupon Code: PLOWINGPOTS20 on your first purchase.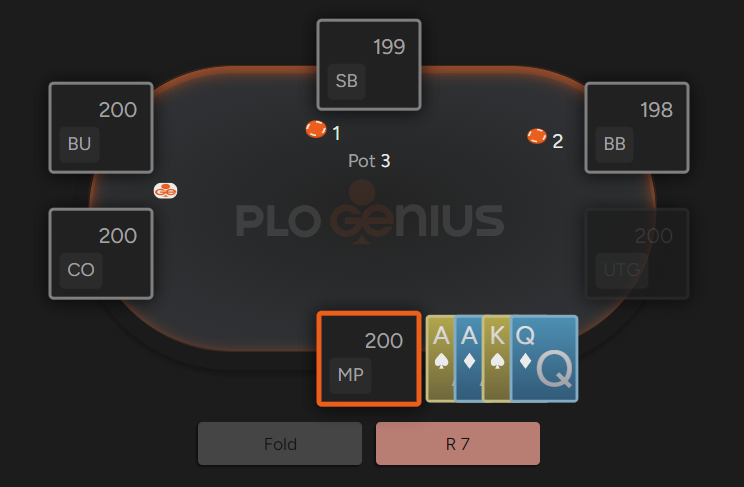 PLO Genius free version features includes –
Raise-First-In Ranges
Mid-Stakes Rake Structure
100BB stacks size
Hand filtering is available in study mode but not trainer mode
PLO Genius offers all the features I listed above 100% free in its free PLO trainer option. Once you have mastered your opening ranges, you will likely want to look at response ranges. For that, you will need to upgrade to a paid subscription.
The paid subscription, which is the cheapest pre-flop training option on the market, gives you access to the following expanded options:
Entire pre-flop game tree
Heads-Up Ranges
Up to ten different stack sizes ranging from 10bb to 200bb
Three different rake structures
Ability to customize your training with numerous filtering options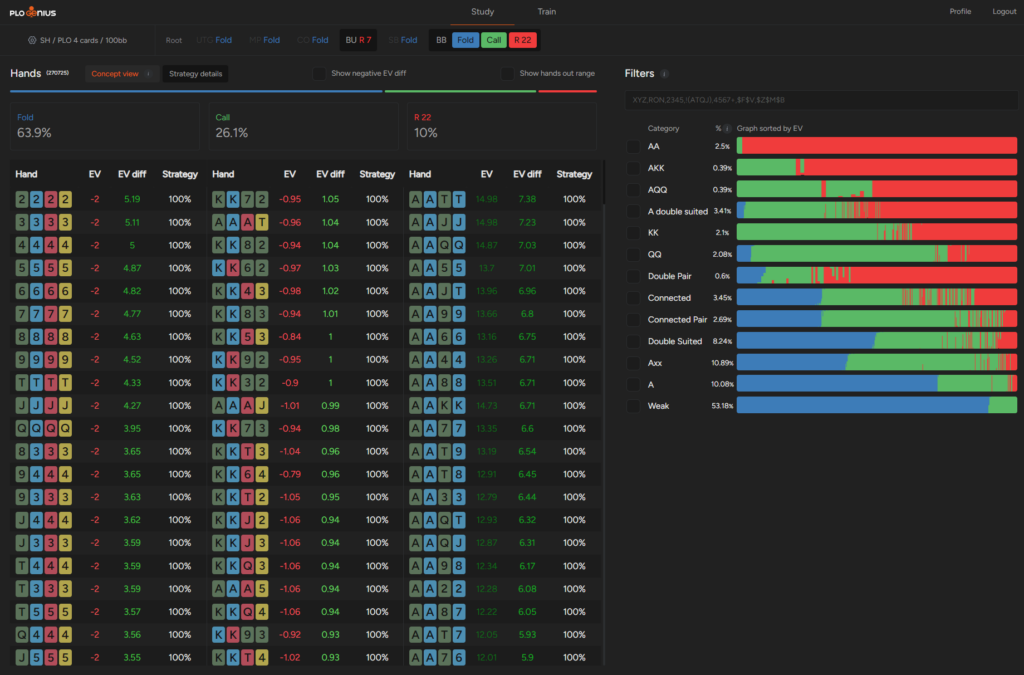 Check out PLO Genius' free PLO trainer to try it out. If you want the expanded option, receive 20% off with my PLO Genius Coupon Code: PLOWINGPOTS20 on your first purchase.
Best Paid PLO Poker Trainers
PLO Trainer
PLO Trainer from PLO Mastermind is the next step when wanting to study and train pre-flop and post-flop. PLO Trainer gives you GTO solutions for both pre-flop and post-flop. The user interface is clean, easy to navigate, and has all the required features mentioned above.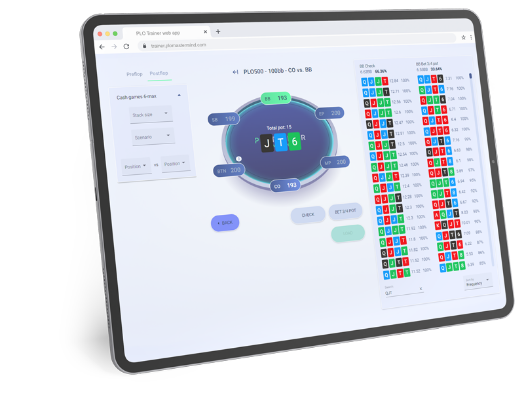 PLO Trainer gives you access to over 175,000 solutions covering pre-flop and post-flop scenarios for both cash games and MTTs. Cash game solutions include multiple stack sizes and rake structures, enabling you to find the right solution for your game.
As I mentioned above, this trainer comes automatically packaged with your PLO Mastermind 4-Card subscription; however, you can purchase it on your own if you prefer.
Pick a pre-flop or post-flop situation and a specific range if you like. Spend time going through the situation as the trainer throws hands at you, and you make decisions, getting feedback on your mistakes and EV loss.
This is a great tool to drill your pre-flop ranges on your phone with their phone app when you have five or ten minutes to spare. You will be amazed how quickly you improve by doing this for a few minutes daily.
One of the great benefits that PLO Trainer offers you is the ability to export ranges in a format usable in MonkerSolver or PLOCalc. This feature expands your study capabilities significantly if leveraged correctly with other PLO tools. The AHK scripting capability lets you easily and quickly export ranges and run your own turn and river solutions on MonkerSolver's free PLO solver option.
As you progress in your PLO training, you will undoubtedly need something with a lot more analysis capability than your standard trainers or MonkerSolver can offer. That is where PLO Range Explorer is an obvious top choice.
PLO Range Explorer
PLO Range Explorer from PLO Mastermind is a professional-level PLO tool with advanced analytical visualization capability to help you quickly grasp solutions and develop heuristics and a deep understanding of the game quickly. On their site, they say it's "like Monker on steroids," and I couldn't agree more.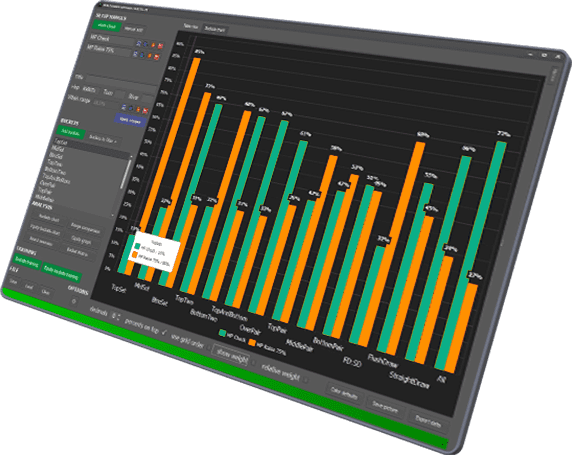 The ability to visualize how equities drive betting is a massive feature of PLO Range Explorer, which offers many ways to visualize this outside of the Equity Graph we are used to seeing from your standard equity calculators discussed below.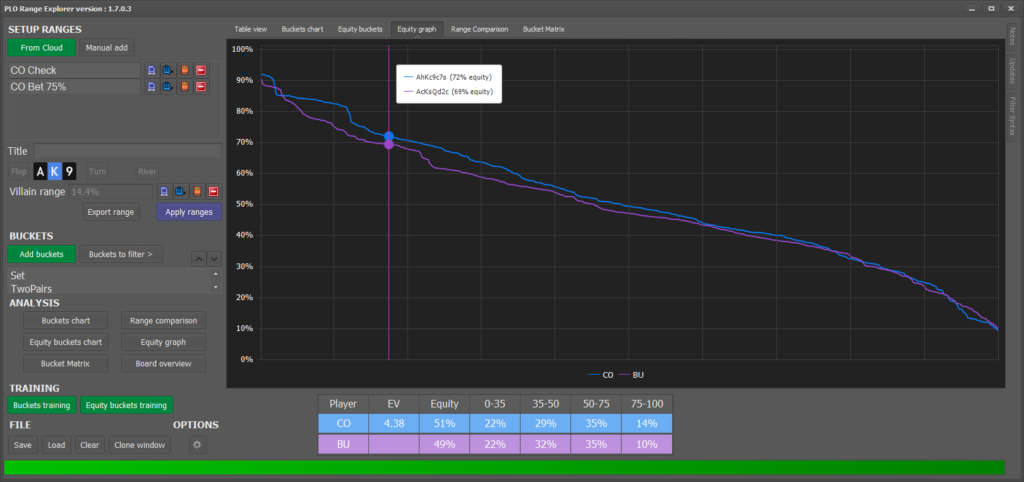 Starting out, we can group hands into buckets of strength and hand categories. Users can select many pre-defined hand categories using the buckets filter builder or build their own custom buckets.
This allows users to explore these buckets in the Bucket Chart tab, seeing how much of their range consists of that bucket and how often it takes specific actions. Users can compare these buckets to their opponent's range in the Range Comparison or Equity Buckets tab to better understand how ranges align.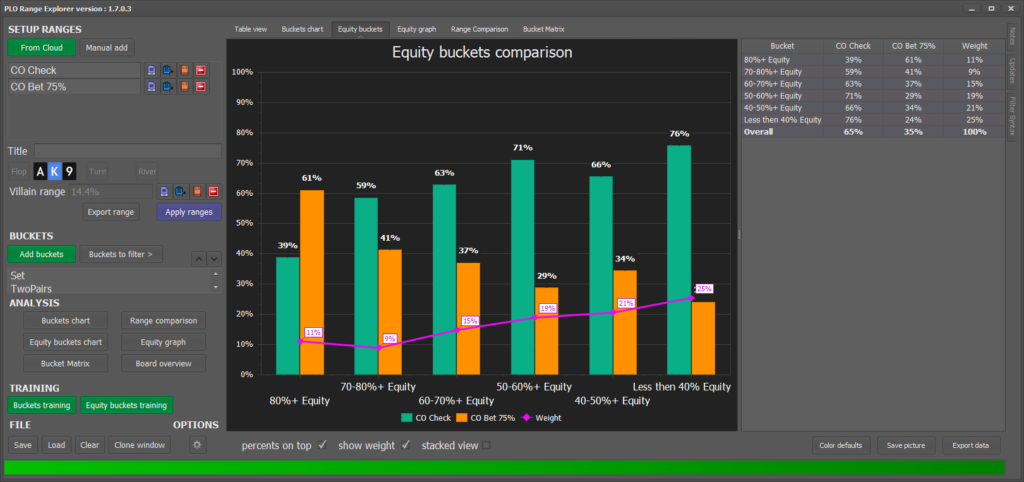 The great part of this tool is the ability to be as detailed as you want when defining these buckets. And suppose you really want to get into the details and understand how different characteristics of hands drive actions. In that case, you can dive into the Bucket Matrix.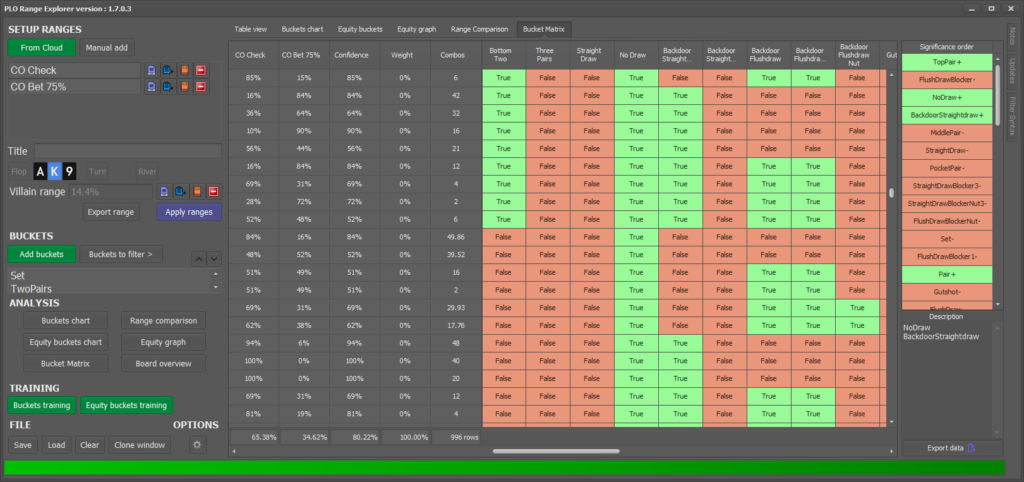 This matrix captures all the relevant features a hand could have, from made hand strength to backdoor draw features. You can quickly find betting patterns and understand what components of a hand are important.
For higher-level insights, you can view aggregate data for flops, turns, or rivers in the Board Overview window.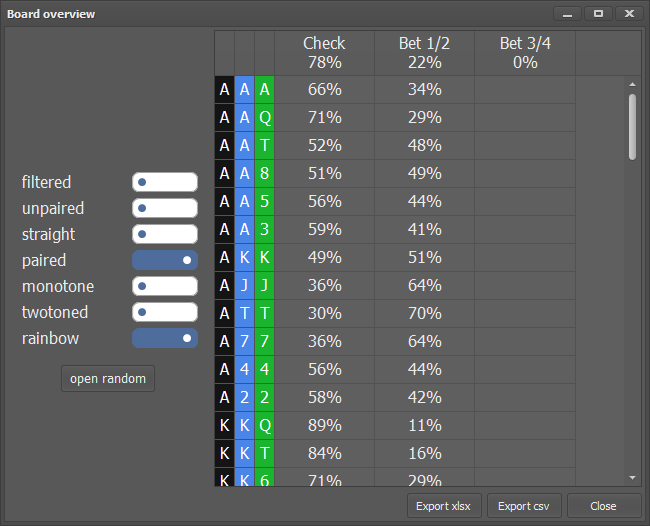 The great thing about PLO Range Explorer is that you are not limited to analysis on the library provided. PLO Range Explorer can import ranges from MonkerSolver enabling you to apply more advanced analysis to your own simulations. If you are at the point of running your own simulations, PLO Range Explorer can add a new level of analysis to your study program that simply is not available in your GTO solver.
This just scratched the surface of what you can do with PLO Range Explorer. If you want to learn more, you can look at in-depth videos covering all of PLO Range Explorer's features at PLO Mastermind's site.
5-Card PLO Mastermind Video + 5-Card PLO Trainer
The 5-Card PLO Subscription is PLO Mastermind's option for those who are interested in 5-Card PLO. It offers similar content as the Video Subscription and PLO Trainer above but for 5-Card PLO players. If you are looking for a 5-card PLO solver, this is as close as you will get since there are no commercially available 5-card PLO solvers on the market.
The video package includes over 120 videos with the following content:
Brief Primer on PLO5 Ecosystem and the 5-Card PLO Trainer
Pre-Flop Theory
Post-Flop Theory
Play & Explains
Heads-Up Theory
Session Reviews
Dual Reviews
The 5-Card PLO Trainer has 6-max and heads-up pre-flop solutions for multiple stack sizes ranging from 20bb to 200bb for 6-max and 20bb to 100bb for heads-up. There are even ranges for straddle and ante games for 6-max. The user interface is nice and clean, like its 4-Card PLO Trainer counterpart.
The trainer includes solutions for nearly 300 flops across all board textures. The PLO Mastermind team is adding new solutions weekly. If you want to gain an advantage on this quickly growing Omaha format, the 5-Card PLO Package will surely fast-track your progress.
Poker Tracker and Poker HUD
The modern poker player is equipped not just with skill but also with data. Poker trackers and Heads-Up Displays (HUDs) provide real-time insights into your playstyle and that of your opponents, revealing patterns, strengths, and weaknesses. Think of them as your personal poker dashboard, giving you a high-level overview and specific stats, enabling data-driven decisions.
See my Ultimate Guide to Poker Trackers for more in-depth information on poker trackers and HUDs.
Best Free Poker Tracker and Poker HUD
Hand2Note BASE
Hand2Note is the #1 best poker tracker with poker HUD available today. It is also the only poker tracker I know that is 100% free to use most features and HUD for any stake. Most players do not need more than the free features that Hand2Note gives away in their BASE Subscription.
All major poker trackers give you two main capabilities:
Hand2Note is no exception. Here is a brief rundown of how Hand2Note provides these capabilities.
Hand2Note Poker HUD
Hand2Note Base plan allows you to use the following HUD features 100% free for any stake you play.
Static HUD
Custom Popups
Custom Stats
Load Third-Party HUDs and Popups (You will not have access to advanced features such as Positional and Dynamic HUD and Extended Popups that are available in Edge or Pro versions covered below)
Hand Replayer and Review
Take Notes on Opponents
Hand Marking for Review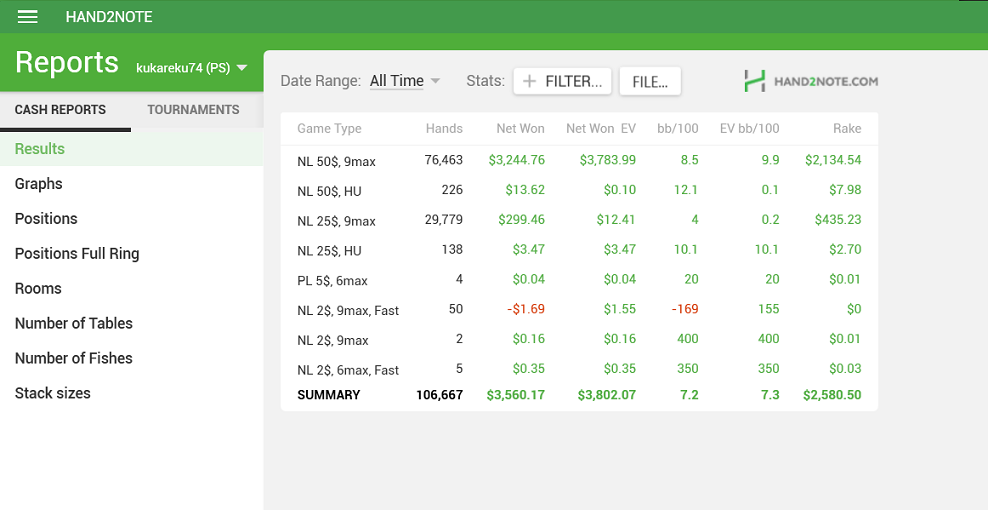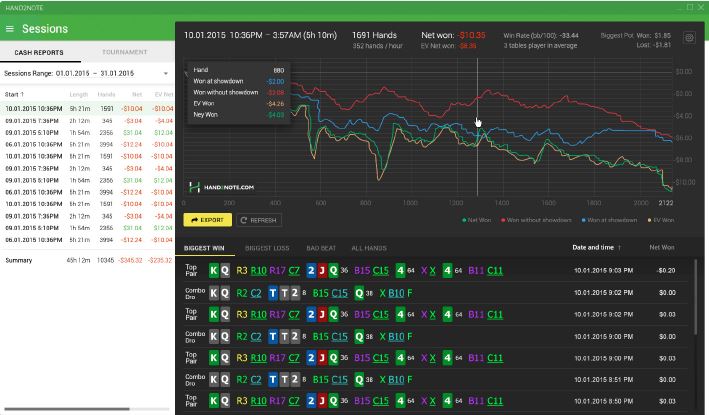 You can filter these reports by
Date Ranges
Stakes
Players in Hand
Game Type
Specific Actions
After filtering, you can review your profitability in those specific spots and review hands in detail.
With so many options available for free, Hand2Note is a significant resource that will quickly allow you to start improving. You can download Hand2Note and access all features I discuss below in the paid section for 30 days for free. After 30 days, you will be reverted to the Base subscription with all features listed above available.
If you upgrade to a paid subscription covered below, ensure you get 10% off using the Hand2Note coupon code plowingpots10 at checkout.
Best Paid Poker Tracker and Poker HUD
Hand2Note EDGE
Suppose you want something more out of your poker tracker and want to do some deep analysis on your opponents or have some modernized automated features integrated into your HUD. This is exactly what Hand2Note EDGE was designed to do.
Hand2Note EDGE leverages the full capabilities of the Hand2Note software and gives you a massive edge over the competition.

HUD upgrades include Positional HUD and Dynamic HUD.
The Positional HUD adjusts the stats shown depending on the players' position at the table. The Dynamic HUD shows stats that are relevant based on the specific situation at hand. For instance, if a player raises first in from the CO, the Dynamic HUD will display stats that pertain to that particular situation.
These two features save you significant time during play, keeping you from having to find the stat you are looking for quickly. This is time that you can spend thinking about the correct action. It is worth noting that these two features are prohibited on PokerStars, and players must use the Static HUD on that site.
The other upgrade to your HUD that you get with Hand2Note Edge is the Extended Popup Statistics. Hand2Note generates a large amount of additional data for each stat in your HUD or popup. You will get detailed information about what kinds of hands your opponents play for different bet sizes and frequencies. Additionally, you will get information on the profitability of your opponents' actions.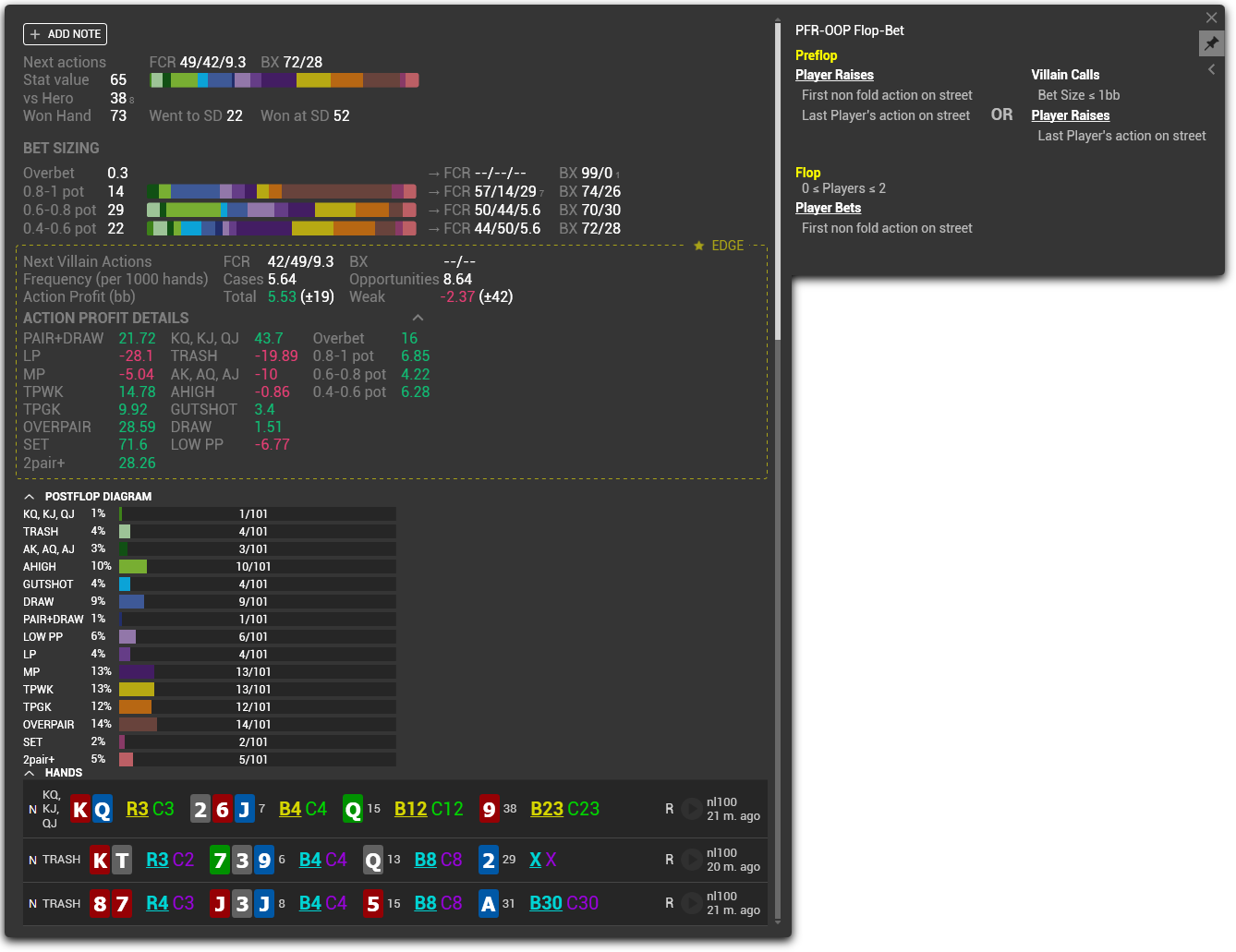 The most powerful feature of Hand2Note Edge is the Range Research feature. This feature allows you to conduct an in-depth analysis of your opponents. This can be a single opponent, a group of opponents that fall within specific outlined criteria, or the entire population in your player pool.
If you have a question related to how your opponents are playing in a specific spot, you can likely find an answer using Range Research. The following are a few example questions from the Hand2Note site to outline how detailed you can get.
Which hands an average passive fish over bets on the river?
Which hands an aggressive fish checks and min-raises on the turn?
Which hands does an average regular player donk on the turn?
Which hands does an average regular player with stat value 3BET MP vs UTG < 2% 3bets from MP against a regular player on UTG?
Which hands does an average tight regular player 6-bet all-in on pre-flop with 250bb+ stack sizes?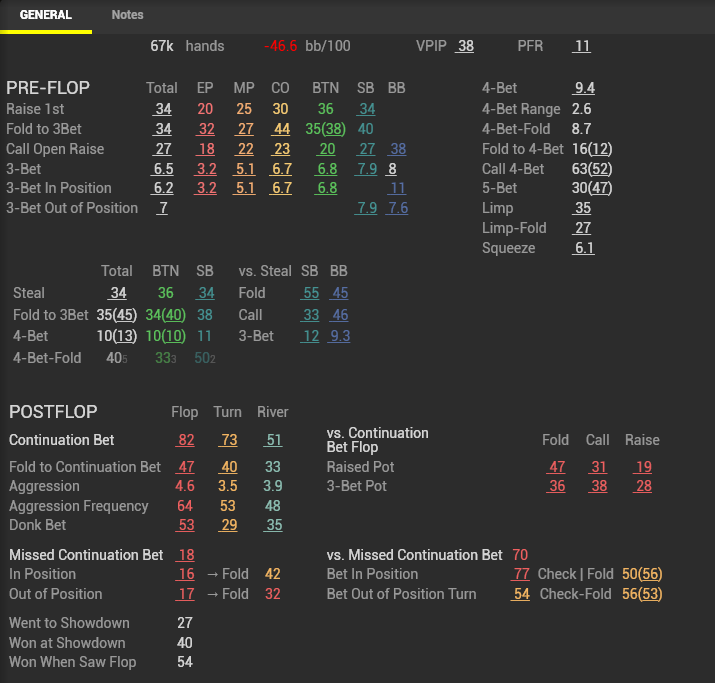 The above picture is a very simple popup for range research. You can create or buy detailed premade popups that give you information about every part of your opponent's game. The pros use this feature every day to crush the player pool and increase their winrates.
Poker Table Management Software
Multi-tabling is a hallmark of the modern online poker player, but managing numerous tables can be daunting. That's where Poker Table Management Software steps in. These tools streamline your online experience, helping you easily organize, tile, or cascade poker tables.
Whether you're a recreational player or a seasoned grinder, optimizing your virtual setup can significantly impact your performance. Learn how to elevate your multi-tabling game in this enlightening section.
Best Free and Paid Poker Table Management Software
Jurojin is the only poker table management software offering many of its features for free. You can access most of their free features if you play NL/PLO10, MTTS $5 or $2 Spins. These include –
Single Tiling Layout
Hotkeys through mouse, keyboard, or gaming controller
Custom Betsize Overlay for Pre-flop and Post-flop
Positions Overlay
Actions History Lines Overlay
RNG overlay
Pot Odds, SPR, and EFF Stack Size Overlay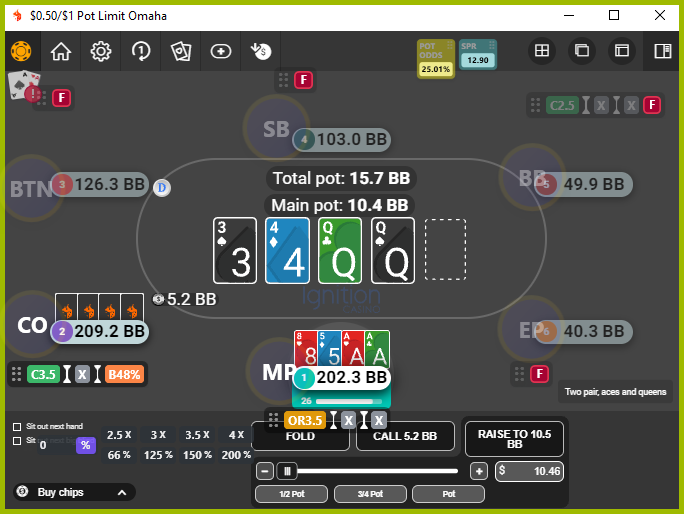 If you are playing higher than micro-stakes, Jurojin still gives you access to the features above but with some limitations. Your tiling layout is restricted to two tables; all overlays and hotkeys are available only on one table.
Jurojin does make their paid access very affordable, with prices differing if you are playing NL/PLO50, MTTs $22, or $10 spins and below, or if you are playing higher. With a paid subscription, you get access to everything listed above, plus –
Multiple Layout Options
Bodog Comfort Features

Auto Sit-Back-In when Timing Out
The best thing I like about Jurojin is how flexible and easy it is to setup your layouts. The clean user interface makes it very easy and intuitive.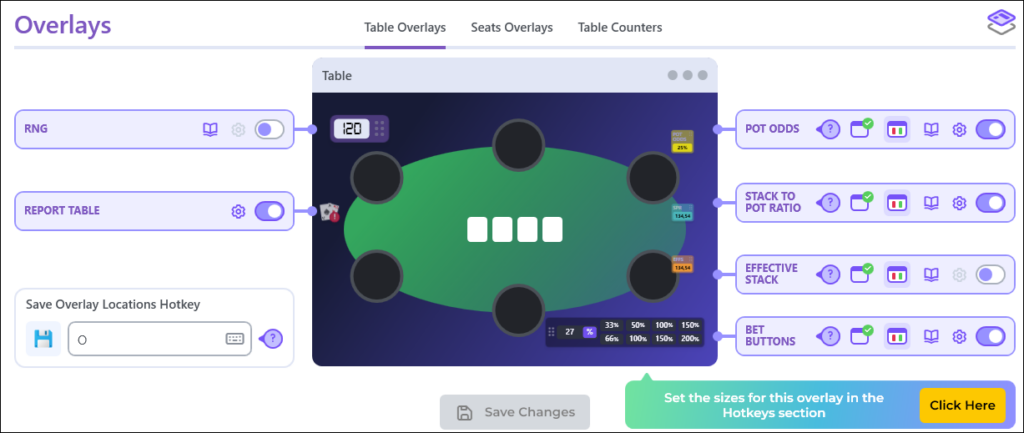 Another great feature is the shear number of betsizes available to you for customization. In addition to being able to setup betsizes, you can even customize percentages or multipliers.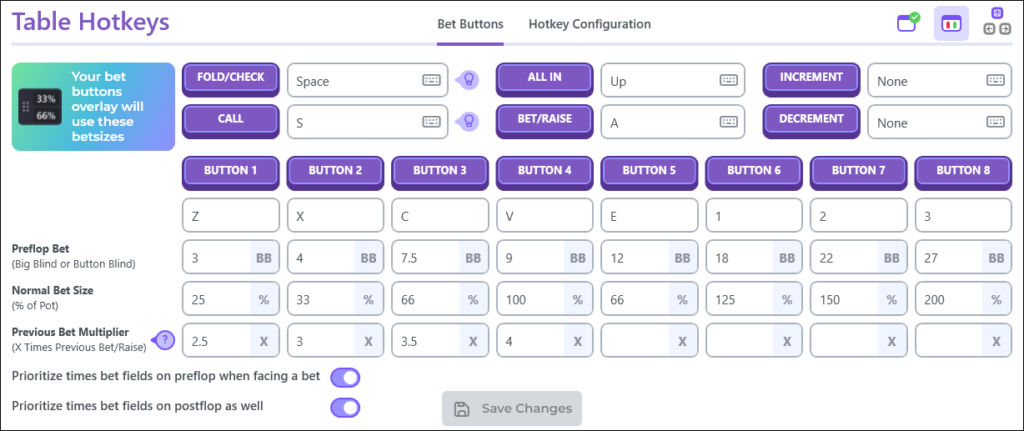 As you can see above each of these options can be mapped to a hotkey on your keyboard or mouse. If you are a gamer, you can even map to your gaming controller for a laid-back playing experience.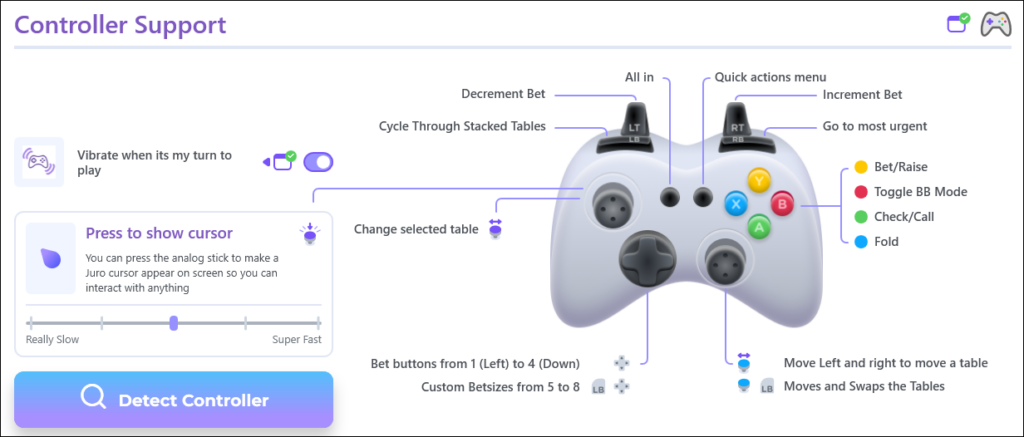 If you want to free up your mental space to focus on better play, try Jurojin for free. They typically only offer a free full-access trial for 15 days; however, you can double that to 30 days by signing up here.
Poker Equity Calculators
Before GTO poker solvers became all the rage, serious players spent much time reviewing hands in poker equity calculators. Many who have been around for a while will remember PokerStove.
Over the years, equity calculators have taken a backseat to GTO poker solvers; however, they are still vital to understanding poker strategy.
In PLO, many players do not understand how close equity distributions are versus those in NLHE. The best way to learn this quickly is by playing with hands and ranges in an equity calculator.
Additionally, understanding how your hand and range compare to your opponents' is a huge part of understanding the betting frequencies and sizes.
Best Free Poker Equity Calculator
Equilab – Omaha
Equilab – Omaha by PokerStrategy.com is the best free equity calculator for PLO. It also works for PLO8, which is a nice bonus.
Equilab – Omaha has an easy-to-use interface that will be familiar to many who have used equity calculators before. You can quickly input scenarios for hand versus hand, hand versus range, and range versus range for up to ten players. You can also input board cards to include any known dead cards and get an equity breakdown across all streets.
---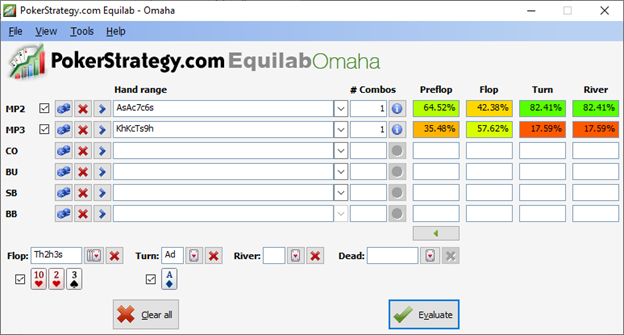 There is also a built-in equity distribution graph. This feature is handy in determining what types of hands might be better than other hands versus an opponent's hand or range. This is something that might not be immediately apparent in raw equity numbers.
---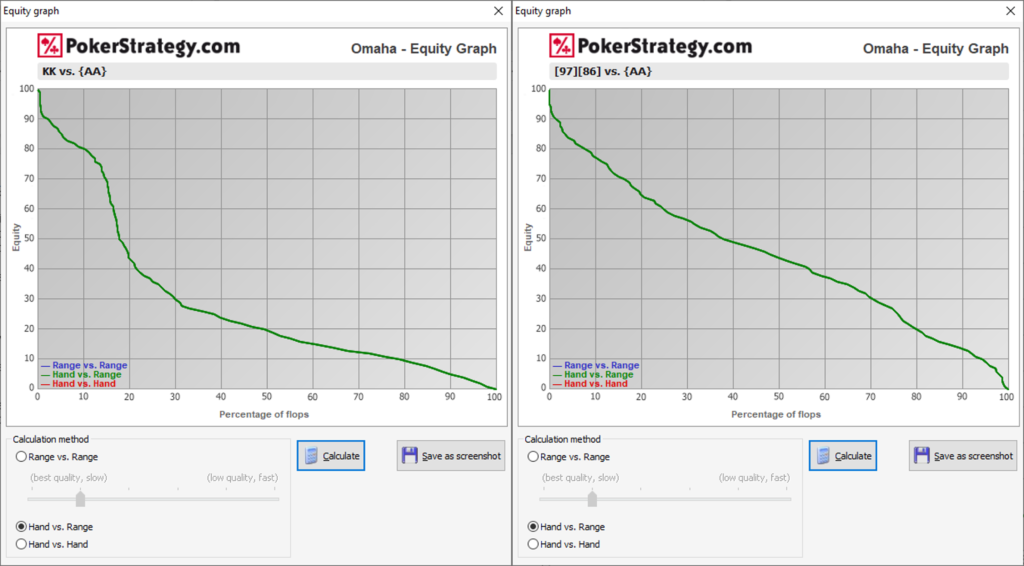 Inputting ranges can sometimes be tedious. One of the powerful features of Equilab – Omaha is the Range Selection feature that allows you to quickly select from pre-constructed ranges that PokerStrategy.com has compiled from popular sources or a percentage of the full range. The tool also has a decent syntax that will enable you to customize various ranges to your needs.
After inputting a range, the hand range visualizer allows you to input a general hand, such as AA double-suited, and get information on the number of strategic hands, the number of combos, the percentage of range, and an ordered list of hands or combos.
---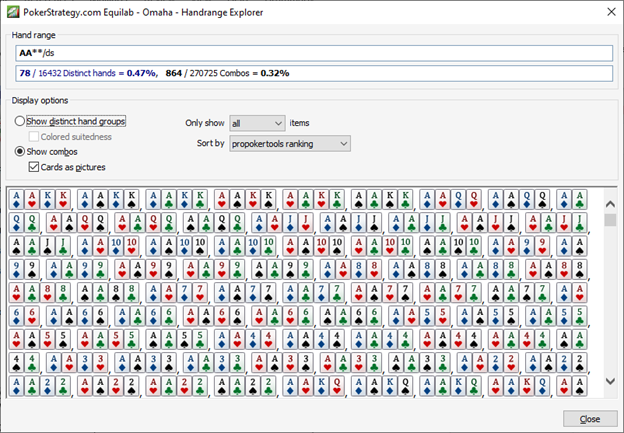 The last powerful feature I want to highlight is the Flop Outs Counter. This feature allows you to put in a specific hand and flop and get information over the number of straight outs, flush outs, and equity versus various random hands.
---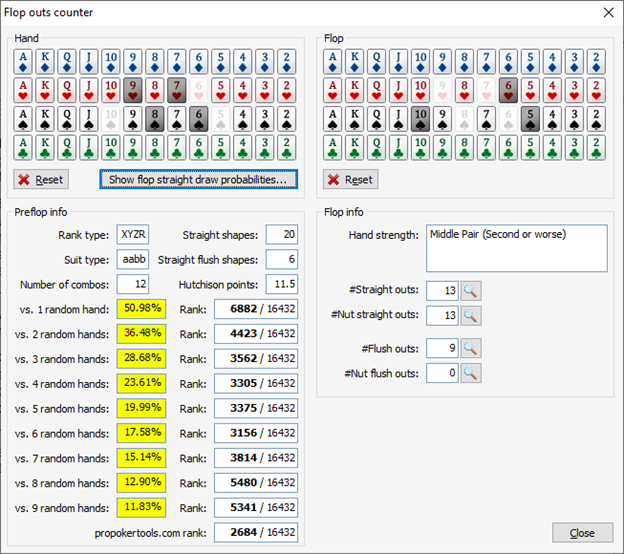 The great thing about an equity calculator like Equilab – Omaha is your ability to use it with other resources. You can use it to work through hand reviews with your poker software or use it with strategy material to gain a deeper understanding.
Best Paid Poker Equity Calculator
PLOCalc
PLOCalc is easily the best equity calculator for PLO currently available for purchase. Developed by the PioSolver team, this tool offers a suite of analytical features not found in other PLO equity calculators.
Before we review the tool's features, it is worth noting a significant difference from other calculators. PLOCalc is a two-player, range versus range equity calculator. Additionally, the tool is not in active development, and their site states that it is "mostly as-is," with new features unlikely to be introduced.
Some might initially see these as a significant drawback; however, the advanced features in the current product more than makeup for that.
The front part of the user interface allows the user to input board cards up to the river if desired. The initial range for the two players is set at 100%.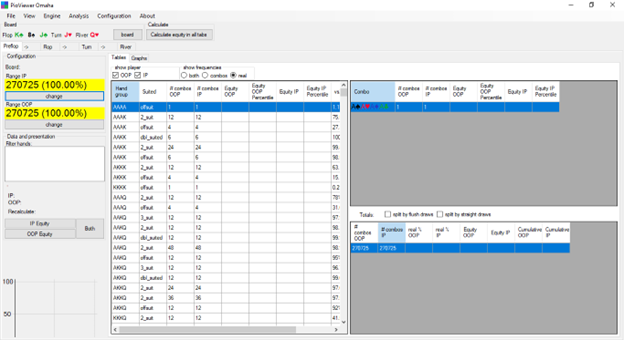 You can adjust a player's range using the range selector. There are a couple of ways that you can build ranges in PLOCalc.
The first is by using PLOCalc's advanced syntax. PLOCalc uses a specially designed syntax that gives you significant flexibility. You can build ranges by card values, hand features, equity, post-flop hand category, and many other ways.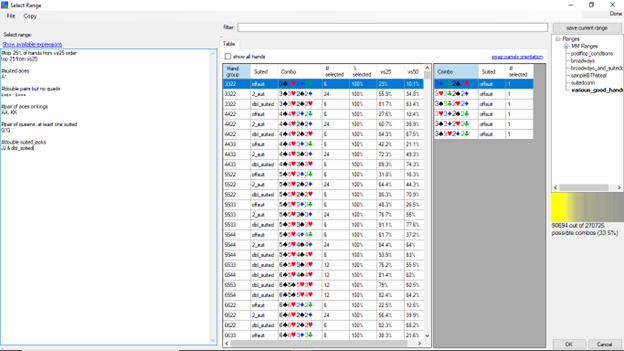 The second way to build ranges is my personal favorite. You can paste ranges into PLOCalc that are in ProPokerTools' 'hand@frequency' format. An example of this is AsAhKdKh@100. This is a format that many MonkerSolver and PLO Trainer users will recognize. It is effortless to copy the range to the clipboard from one of these tools and paste it into the range builder.
The next great feature of the tool is the ability to adjust ranges going to the next street. If you run a complete analysis from the flop to the river, you can adjust the ranges each player takes to the turn and the river. This allows you to get a detailed analysis of each street.
When you run the calculations, it can take several seconds. PLOCalc runs exact equity calculations for every hand combo against the other player's entire range. It is important to note that these are exact equity percentages.
The output from PLOCalc gives you a considerable amount of information broken down over a tables tab, graphs tab, and blocker effects tab.
The first tab I like to look at is the graphs tab. You can get a lot of information by looking at how each player's equity is distributed throughout the entire range compared to each other player's equity.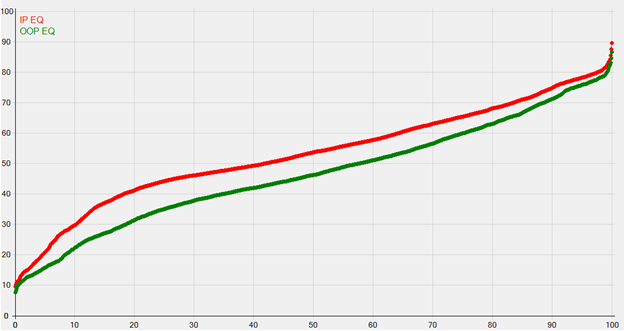 The tables tab has three main tables that give you a significant amount of information on each hand, hand group, and hand category.
Type of Draw if Applicable
Number of Combos
Hand Versus Opponent Range Equity
Hand Category
Total Outs
Straight Outs
Flush Outs
Full-House Outs
Nut Outs for Each Previous Category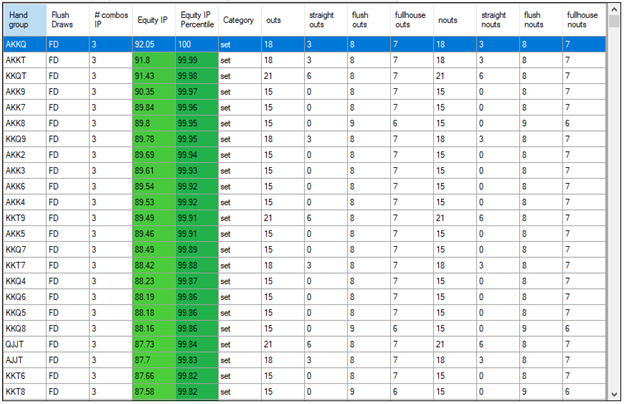 You can view this same breakdown for each individual hand in every hand group and an equity breakdown for hand categories aggregated or split by additional outs from flush and straight draws.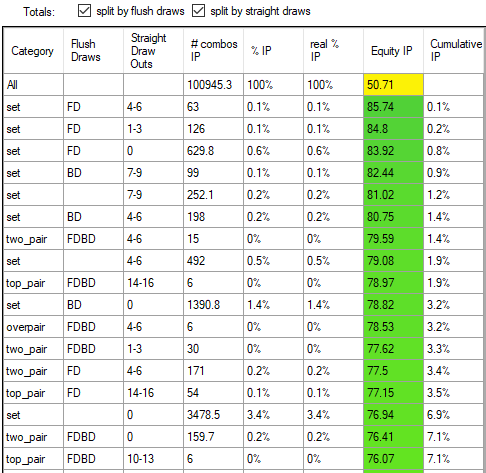 One of the other great features is the fact that this is all in a tabular format. This means you can highlight all data in the table and then copy and paste it into an external format like an Excel or CSV file for further manipulation and analysis.
All of this detailed data allows you to dive deep into understanding why a solver plays certain parts of its range a certain way. I have found significant value in using PLOCalc in conjunction with solutions from PLO Trainer. Using both has given me a greater understanding of range interactions.
PLO can be a complicated game and is often intimidating to newer players. The amount of good resources is also harder to find than No-Limit Texas Hold'em. With this list of PLO tools, you should be able to start improving your game regardless of your budget. If you know of a good resource, please let me know. I am always on the look out for tools to help mine and others game.
If you like this article and enjoy PLO strategy, follow me on Twitter and Facebook to stay updated on new posts and topics. Also make sure to check out the other content on my blog.